LAND ROVER DISCOVERY NAMED 2018 FOUR WHEELER SUV OF THE YEAR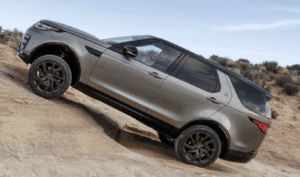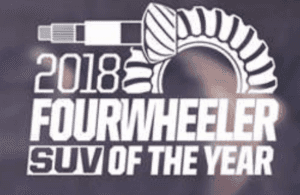 (MAHWAH, NJ) – January 30, 2018 – Land Rover today announced the 2018 Land Rover Discovery HSE Luxury Si6 has been awarded the title of 2018 FOUR WHEELER SUV of the Year by the editors of FOUR WHEELER Magazine.
The prestigious award – now in its 45th year – is open to all new or significantly updated SUVs and is judged over a week of testing featuring more than 1,000 miles of real-world driving on highways, back roads and a variety of off-road terrain. Editors compare the vehicles' on- and off-road performance, overall build quality, features and amenities. This is the fifth time a Land Rover vehicle has won the coveted FOUR WHEELER SUV of the Year award.
The Land Rover Discovery went on sale in late spring of 2017 as the brand's most versatile SUV; offering premium design and interiors, all-terrain capability and unique cutting-edge technology. With seating to accommodate up to seven full size adults comfortably1 , the Discovery features a distinctive stepped roof design for enhanced passenger headroom and comfort, and Intelligent Seat Fold technology2 which allows owners to instantly configure seating remotely via their smartphone app.
At the heart of the Land Rover Discovery HSE Luxury Si6 is a supercharged 3.0L V6 gasoline engine which produces 340-hp and 332-lb.ft. of torque. The Discovery features advanced aluminum construction for enhanced capability and efficiency; cutting almost 1,000 lbs3 from the weight of the outgoing LR4. The Discovery is 5.5 inches longer than the outgoing LR4, providing additional length in the wheelbase and superior off-road capability. Additionally, the Discovery Si6 can tow up to 8,201 lbs.
Complementing its on-road performance, the Discovery features a number of amenities which make it a formidable off-road vehicle as well. Key to its off-road versatility is an available adjustable air suspension that helps the vehicle reach over 11.1 inches of minimum ground clearance in off-road height, more than 19.6 total inches of wheel articulation, a wading depth of 35.4 inches, as well as approach and departure angles of up to 34- and 30-degrees respectively.
The Discovery also features a number of available interior amenities that make it a supremely luxurious vehicle, including Land Rover InControl® Touch Pro™ Navigation Services4 , Interactive Driver Display, Autonomous Emergency Braking5 , 4G WiFi Hotspot6 , and powered third row seating.
"The Land Rover Discovery HSE Luxury Si6 skillfully accomplishes the challenging task of balancing off-road capability with refined on-road performance, while offering high-end luxury," said Ken Brubaker, Editor of FOUR WHEELER Magazine. "The Land Rover name is synonymous with off-road capability, and the Discovery carries on this tradition in grand form."
"The fifth generation Land Rover Discovery builds on, and further enhances, 70 years of Land Rover brand heritage, as we continue to design vehicles with capability for on- and off-road adventures," said Kim McCullough, Vice President of Marketing, Jaguar Land Rover North America. "The Discovery is one of the most capable and versatile vehicles in the Land Rover lineup and we are thrilled it has been recognized by the editors of Four Wheeler as SUV of the Year."
In addition to being recognized by the editors of FOUR WHEELER, 2017 marked a record-breaking year for the Land Rover brand as a whole, reaching a new annual high mark of 74,739 units sold.
For additional information on the FOUR WHEELER SUV of the Year Award, visit www.fourwheeler.com.
For additional information on the full Land Rover vehicle lineup, visit www.landroverusa.com.