Land Rover Defender vs. Ford Bronco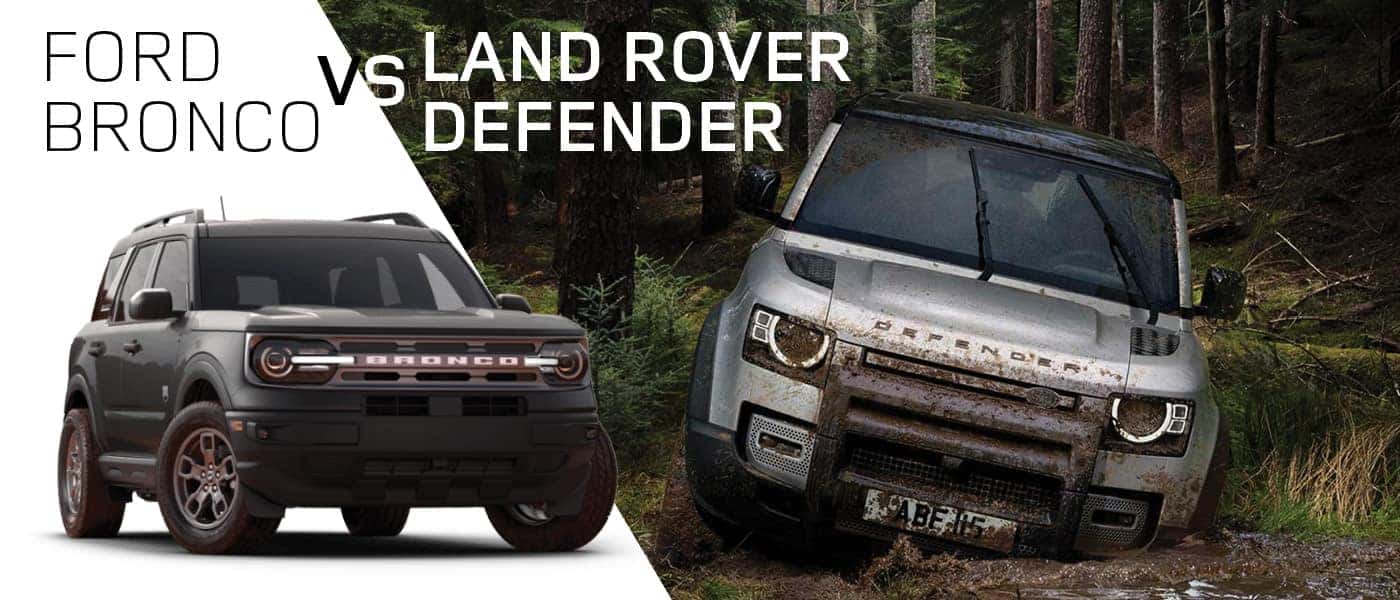 While shopping for a new off-road SUV, you have probably come across the Land Rover Defender as well as the Ford Bronco. New car buyers looking for the perfect car to take their next off-road adventure are faced with the real question: which one is better? When it comes to the driving experience and overall luxury and style, the Land Rover Defender is the clear winner.
We've all been in those cars on a long road-trip that make you start to feel sick. Driving a smooth ride is essential for an off-road adventure and that is a big difference between the Land Rover Defender and the Ford Bronco. The Ford Bronco drives more like a truck which leads it to being a rough ride on rocky roads. The Land Rover Defender is built more like a traditional SUV but with all of the off-roading capabilities engineered into it.

2023 LAND ROVER DEFENDER 110
VS.
2022 FORD BRONCO 4-DOOR
2.0L Turbocharged I4 (296 HP)

3.0L MHEV I6 (395 HP)

5.0L Supercharged V8 (518 HP)
Available Engines
2.3L Turbo I4 (270 HP)

2.7L Turbo V6 (310 HP)
8,201 pounds
Max Towing Capacity
3,500 pounds
Adaptive Dynamics
Adaptive Suspension
Not Available
28.0 / 40.0 degrees
Breakover / Departure Angles
26.3 / 37.0 degrees
10
Exterior Color Choices
7
3
Interior Color Choices
1
5, 6, or 7
Seating Capacity
5
58.3 cubic feet
Max Cargo Volume
52.3 cubic feet
4 Years / 50,000 Miles
Basic Warranty Coverage
3 Years / 36,000 Miles
4 Years / 50,000 Miles
Roadside Assistance Coverage
3 Years / 36,000 Miles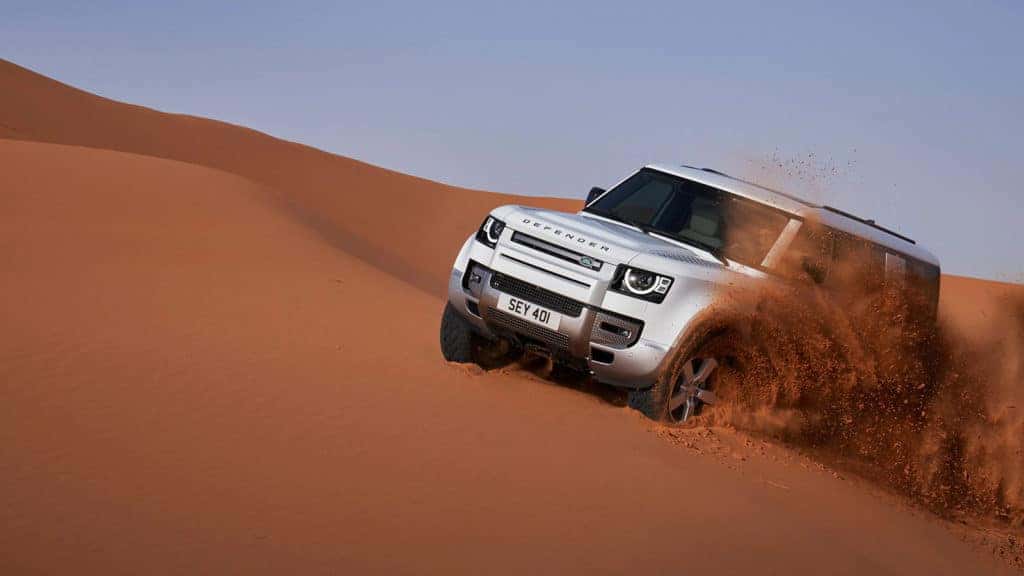 When choosing what off-road vehicle to buy, it's important to find a safe and stylish ride that is within your price range.
Land Rover Defender Safety
Let's dive into safety first:
The Land Rover Defender has power child safety which will allow you to control them with a click of a button from the driver's seat. However, the Ford Bronco child's locks have to be individually turned on and off from the rear door with a manual switch. When bringing the kids along on an off-road adventure, it is important to ensure all safety measures are in place and with the Land Rover Defender, you can feel confident your kids are in good hand.
Up front the Land Rover Defender has a higher ticket price than the Ford Bronco, but the Land Rover Defender has a bunch of features included that the Ford Bronco makes their customers pay for. Let's dive into some of these important features:
The Land Rover Defender has a standard lane departure warning system that will alert an inattentive driver when the vehicle begins to shift into the lane next to them and pushes the vehicle back into its own lane.
The Land Rover Defender has a standard rear cross-path warning system which makes backing out of tight parking spaces feel like a walk in the park. The sensors in the rear bumper alerts the driver from vehicles approaching from the left and right that may be hard to see otherwise.
Should you choose the Land Rover Defender or the Ford Bronco?
If you're looking for a safe and stylish car with all of of the features imagine to get you and your family to your destination with no sweat, look no further than the Land Rover Defender. Land Rover is an industry leader when it comes to designing luxury vehicles. Although the up front ticket price of the Land Rover Defender may be more, you do not have to worry about any hidden costs and can be assured that your SUV has all the cutting-edge safety features. Now that we have compared the Land Rover Defender and the Ford Bronco, we would love for you to come in to our store and get behind the wheel of a Land Rover Defender to test drive our wide selection and choose the best fit for you.
Why you should buy your Defender from our dealership?
Land Rover Hinsdale has been serving the greater Chicagoland area for 70 years. We specialize in choosing the best luxurious off-road vehicles and we make it our priority to give our customers the ultimate dealership experience.