2024 DEFENDER 130 OUTBOUND RESEARCH
2024 is an exciting time to join the Defender family, with many options and models to choose from, all shaped for any adventure. The 2024 Defender lineup is growing to include the luxurious Defender 130 Outbound. This new Defender model is introduced alongside the Defender 130 V8 and a new heritage-inspired County Exterior Pack. You can now order the Defender 130 Outbound, in addition to the rest of the Defender family through our dealership.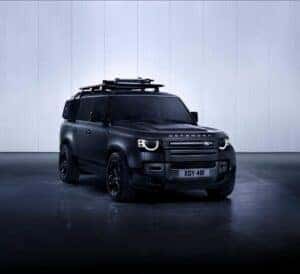 UPDATES TO THE 2024 DEFENDER LINEUP
The new additions for the 2024 lineup to the Defender brand offer more choice for Defender clients, while providing customary off-road capability and superior comfort.
2024 DEFENDER 130 UPDATES
Outdoor enthusiasts will adore the plenty of space available in the 2024 Defender 130, with seating for five, or space for anything you need for your next adventure. Explore and adventure in luxury in the new 2024 Defender 130 from Land Rover Hinsdale. In addition to the added comfort and capability, the 2024 Defender 130 is now available with a V8 engine for the first time that produces 493 horsepower and can go 0-60 in 5.4 seconds.
2024 DEFENDER 110 UPDATES
New for 2024 is the County Exterior Pack, a new design pack for Defender 110  inspired by Defender heritage, offering discerning clients even greater scope for personalization.

DEFENDER 130 OUTBOUND: THE ULTIMATE LUXURY EXPLORER
The new Defender 130 Outbound is designed for adventure-seekers who know there's always more to achieve. It offers the opportunity to explore just about any terrain in superior comfort – with a purposeful interior designed to accommodate everything adventurers can throw at it. Available exclusively with 5 seats, making every adventure effortless for explorers desiring the greatest versatility and practicality. Its near flat floor with nearly 50 inches in  length behind the 2nd row easily accommodates everything from wetsuits and kit bags to camping and climbing gear.
EXTERIOR OF THE DEFENDER 130 OUTBOUND
The 2024 Defender 130 Outbound is unique and stands out wherever it goes. There is a subtle, purposeful look with a Shadow Atlas Matt finish to the bumpers and grille insert, while side vents are finished in Anthracite. 20-inch wheels with fitted with standard Advanced All-Terrain tires are finished in Gloss Black and 22-inch wheels in Shadow Atlas Matt are available. The 2024 Defender 130 Outbound is available in Fugi White, Santorini Black, Carpathian Grey and Eiger Grey. 
INTERIOR OF THE DEFENDER 130 OUTBOUND
Inside the 2024 Defender 130 Outbound is a variety of luxurious amenities and materials. Drivers can choose luxurious full Windsor leather or durable Resist fabric.  All are finished in Ebony, with an Ebony Morzine headliner, Robustec veneer and Defender's signature cross-car beam in Satin Black Powder Coat Brushed finish.
At the beginning and end of every activity, practical touches protect the interior. Durable rubber floor matting can be folded down to protect the bumper when loading bulky or heavy equipment such as bikes or suitcases. Additional storage areas store smaller items out of sight, while extra lashing points and a new cargo net mean a variety of outdoor equipment – large or small – can be secured while driving, ready for action on arrival.
DEFENDER 130 OUTBOUND CAPABILITIES
The Defender family is suited for any adventure and the 4×4 capability is provided by Defender's proven Intelligent All-Wheel Drive System and Terrain Response. Electronic Air Suspension and Adaptive Dynamics come standard on the 2024 Defender 130 Outbound. With a towing capacity of  8,200 pounds, the Defender 130 Outbound is truly capable of anything. Hitching is made simpler by the air suspension, with switches inside the tailgate to raise and lower the rear of the vehicle.
ORDER YOUR 2024 DEFENDER 130 OUTBOUND TODAY
It has never been a more exciting time to join the Defender family than right now. The 2024 Defender 130 Outbound will arrive in our showroom later this fall, but we are accepting orders now. Calling all adventure-seekers and outdoor enthusiasts! Visit Land Rover Hinsdale for all of your Defender needs.