2023 Land Rover Defender Trek Edition
LAND ROVER DEFENDER TREK EDITION FOR SALE
The Land Rover Defender Trek Edition is for sale at our Land Rover dealership in Hinsdale. Since 1996, Land Rover retailer employees have gotten to enjoy an unusual employee perk, the chance to test their vehicle knowledge in a grueling off-road challenge using the latest Land Rover SUV, dubbed the Land Rover TRĕK Off-Road Competition. In September of this year, three of our team members from Land Rover Hinsdale competed in the 2022 Trek Challenge. This year the vehicle used in the Trek competition was a new 2023 Defender 110, complete with bespoke TRĕK badging and Land Rover off-road packs and name-brand accessories. The Defender Trek edition is one of 100 across North America, equipped with Remote Control Electric Winch, Raised Air Intake, Roof Rack, Air Compressor, Front Undershield, Black Exterior Side Gear Carrier and more. The 2023 Land Rover Defender Trek Edition is available for sale at Land Rover Hinsdale, near Chicago. This is the perfect off-road vehicle and stands out on and off the road for its rugged and capable appearance.
2022 LAND ROVER TREK COMPETITION
Land Rover TReK 2022 is a two-day competition inspired by the original Camel Trophy competition. Compromised of qualifying trials and finals, the competition, utilizing the all-new Defender 110, is designed for Land Rover retailer staff to educate and test some of the best off-road driving experts across the U.S. and Canada in off-road driving, navigation and team collaboration. 100 three-person teams competed in this year's Trek competition and included a series of 100 identically customized 2023 Land Rover Defender 110 vehicles for the Regional Trials. Ultimately, the Land Rover TRĕK Competition is about educating Land Rover retailer staff about the capabilities of the Land Rover Defender. This firsthand product knowledge is invaluable in helping Land Rover staff educate their customers, assist with service issues and ensure every Land Rover owner gets the most out of their SUV. Ronny (Pre-Owned Sales Manager), Jason (Parts Manager) and John (Service Technician), each working in a different department, can now impart their knowledge to the rest of the Cole European team and build excitement for Land Rover products.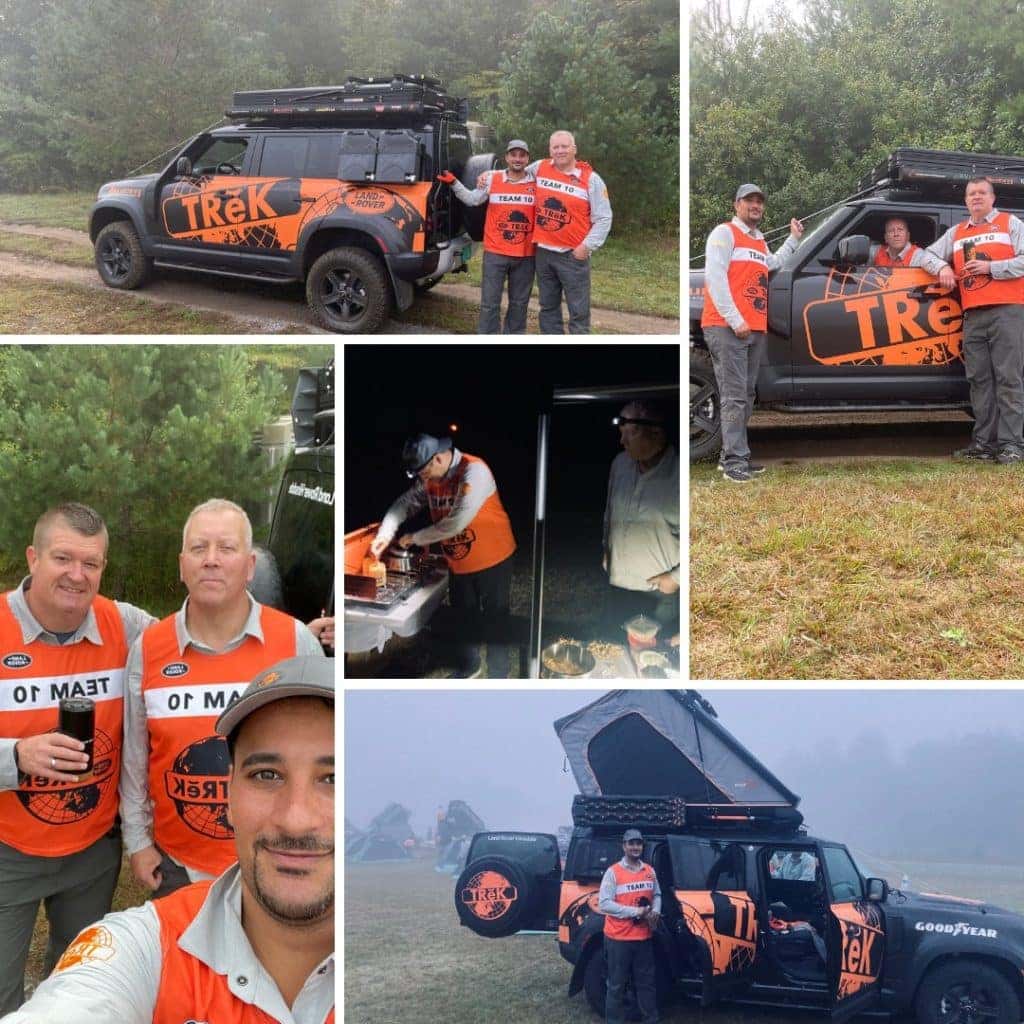 2023 DEFENDER TREK EDITION PRICE
How much is the 2023 Land Rover Defender Trek Edition? The Defender Trek Edition has an MSRP of $88,435. This unique off-road luxury SUV is unique and only 100 are available across the US and Canada. Shop for a new Land Rover Defender online or stop by Land Rover Hinsdale near Chicago, Illinois to take a test drive today!