OVERVIEW OF THE 2022 RANGE ROVER SPORT
The 2022 Range Rover Sport is undoubtedly our most dynamic SUV ever. Performance and capability are exceptional, and a range of advanced technologies are designed to deliver an improved driving experience. With sportier design cues and a powerful, muscular stance, this is a vehicle designed to create an impression. The 2022 Range Rover Sport is now available at Land Rover Hinsdale. You can shop our in-stock inventory of Range Rover Sport models or pre-order the Range Rover Sport model of your choice. Learn more about this incredibly capable luxury SUV below.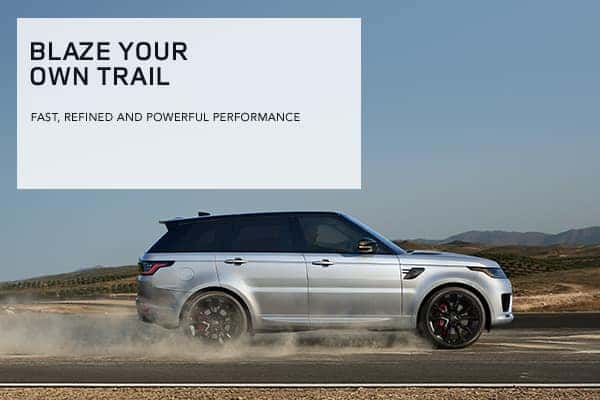 INTERIOR
Luxurious, supremely comfortable and exceptionally functional, the Range Rover Sport is a driver's vehicle through and through. The signature cockpit has been extensively reimagined; every element meticulously designed and beautifully executed. Intuitive controls include the SportShift® Selector gearshift, providing the option of manual gear shifting, and flush touch-sensitive steering wheel switches.
The sense of luxury and innovation is reinforced by the revolutionary Touch Pro Duo technology, which incorporates two 10″ Touchscreens as standard. The finest materials combine seamlessly with dynamic sports detailing, such as the optional Extended Carbon Fiber veneer. The centerpiece is the bold intersection between the sportier horizontal elements of the instrument panel and the vertical lines of the center console. The overall clean design is complemented by the enhanced Configurable Ambient Interior Lighting with a striking graphic light running the length of the console, and the uncluttered feel is maintained by flexible storage solutions such as the additional upper glovebox.
THE RANGE ROVER SPORT HSE SILVER
Standard 21″, 5 split-spoke Gloss Black wheels with contrast Diamond Turned finish give the vehicle immediate presence. While Shadow Atlas finishers, the Range Rover lettering and hood vent inserts convey consummate style. Available in a choice of seven colors, the sophisticated good looks of the HSE Silver are matched by a suite of smart technologies.
From the tactility of the Satin Chrome gearshift paddles to the striking Ebony or Ivory seats, and ingenious touches such as a console refrigerator compartment in the front center console, meticulous attention to detail is in everything. And can be
seen everywhere.
THE RANGE ROVER SPORT SVR CARBON EDITION
This supercharged SVR is the ultimate blend of luxury and power. Its exterior styling enhancements, all of which are crafted in Carbon Fiber, are distinctive and beautifully realized and finished. They truly add to the vehicle's performance credentials. The SVR Carbon Edition also features the extensive use of Carbon Fiber
throughout the cabin. Door inserts, front center console area and steering wheel branding are all finished in Carbon Fiber.
VERSATILIYY
The optional third-row seats are allow the vehicle to accommodate up to seven people. The 2022 Range Rover Sport has 5.7 cu. ft.
AUTOMATIC ACCESS HEIGHT 
Providing additional convenience and capability, Automatic Access Height, enabled through electronic air suspension, allows occupants to more easily enter and exit by lowering the vehicle by 1.9 inches.
CAPABILITY AND PERFORMANCE
ENGINES AND TRANSMISSION
From power and sheer driving pleasure to refinement, there is a range of engines available, and each has been optimized for specific attributes to cater for all needs. All engines are equipped with Stop/Start technology and smart regenerative solutions to capture wasted kinetic energy and reduce fuel consumption for maximum economy, especially during urban driving. Ingenium technology underpins the 6-cylinder engines in the Range Rover Sport range. These low-friction, all-aluminum engines have stiff cylinder blocks and twin balancer shafts to ensure inherently low levels of vibration, for smooth day-to-day performance.
MILD HYBRID ELECTRIC VEHICLE
Land Rover is at the forefront of sustainable innovation. Taking our vehicles into a smarter and more exciting future, Mild Hybrid Electric Vehicle (MHEV) technology is a system that uses a belt-driven starter generator and state-of-the-art 48V battery. These harvest energy that would normally be lost during deceleration, which is then intelligently redeployed. The stored electricity can be used by the starter generator to provide torque assistance to the engine directly, or to power the electric Supercharger to boost performance before the conventional Turbocharger reaches its maximum output, giving seamless throttle response.
ELECTRONIC AIR SUSPENSION
A sure-footed, composed drive is completed by the latest Electronic Air Suspension, provided as standard, which provides exceptional wheel articulation and poise. It changes the vehicle's height quickly, allowing cross-linking of the diagonal wheels to help keep all four wheels on the ground on very uneven surfaces. Added to which, it makes loading heavy objects into the cargo area easier, as you can lower the vehicle's rear suspension height by +/- 2 inches to suit your needs. This function can be operated via the 10″ Touchscreen, a button in the cargo space area or remotely using the key fob. The Speed Lowering system uses the Electronic Air Suspension to reduce aerodynamic drag and fuel consumption at cruising speeds, by lowering the vehicle by over half an inch from normal ride height when the vehicle speed reaches 65 miles per hour.
TERRAIN RESPONSE
When you manually select Land Rover's unique standard Terrain Response system, it sets the vehicle up optimally to match the demands of the terrain, by adapting the responses of the vehicle's engine, gearbox, differentials and chassis systems. There are five manual Terrain Response settings: Comfort, Grass/Gravel/Snow, Mud and Ruts, Sand, and Eco Mode.
TOWING
With a towing capacity of up to 7,716 lbs1 and by incorporating tailored technologies,
Range Rover Sport can handle some of the most demanding tasks. There is a 6,613 lb. limit on the SVR.
TECHNOLOGY
Delivering a wealth of information and entertainment, every Range Rover Sport is equipped with our Land Rover InControl® infotainment system, Touch Pro Duo. It features intuitive and advanced integrated technologies to ensure everyone can make the most of their trip.
ENJOY STRESS-FREE PARKING
The Range Rover Sport offers the most advanced technologies to deliver intuitive and easy parking solutions. Whether reversing, parallel parking or getting into or out of tight spaces, these features make life easier. Available as standard, optional or as part of an optional pack.