THE NEW RANGE ROVER  – 50 YEARS IN THE MAKING
The new Land Rover Range Rover was revealed in London on Tuesday, October 26th for grand global reveal. The famous Range Rover luxury SUV underwent a redesign and was revealed globally in a ceremony in London. The fifth-generation Range Rover makes its debut for 2022 in standard – or long-wheelbase form in SE, Autobiography, or First Edition trim. The new Range Rover is a combination of breathtaking modern designs, peerless refinement, and unmatched capability. This luxury SUV is the result of 50 years of refinement and improvements.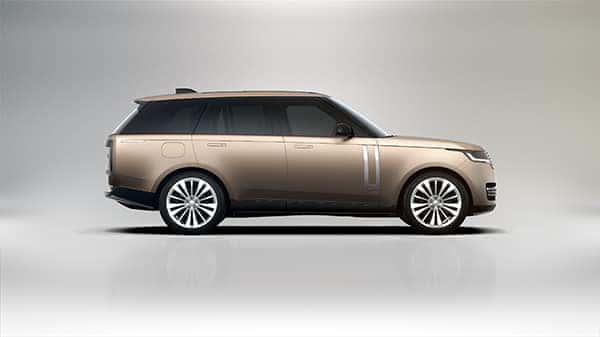 WHAT'S NEW?
In addition to the new third-row seat option, the new 2022 Range Rover Sport also added three inches between the axels, with the standard wheelbase now 118 inches and an overall length of 199 inches. The long-wheelbase version is 8 inches greater in both measures. Jaguar Land Rover's Chief Creative Officer, Gerry McGovern says the new Range Rover design is  "clean, reductive, and free from excessive line work."
2022 RANGE ROVER DESIGN
The new 2022 Range Rover has been completely redesigned, with modern designs and smooth curves and lines. The standard and long-wheelbase designs are available on the 2022 Range Rover, with seating for four, five, or seven. In the half a century evolution of this luxury SUV, the 2022 Range Rover now features the model's first ever three-row version. This option comes after an increased demand for luxury third-row SUVs. The SUV continues to push the envelope with luxury finishes like ceramic knobs and switchgear, wool-blend upholstery, and wood veneers in a mosaic pattern. The new Range Rover SV offers two design themes: The SV offers two design themes: Serenity, with a copper-colored roof and matching accents on the wheels and grille surround, or Intrepid, with black trim and anthracite gray as the accent color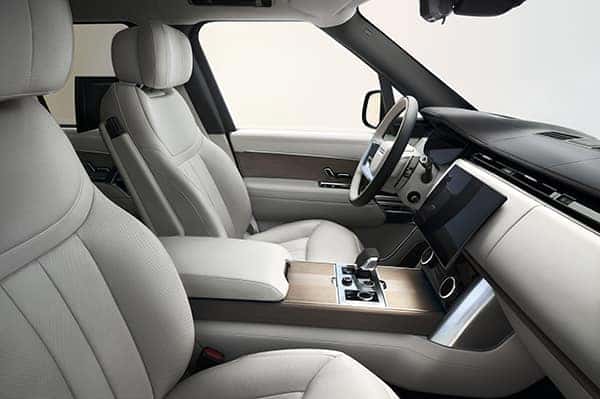 2022 RANGE ROVER ENGINE
The new Range Rover comes with a suite of mild-hybrid and plug-in hybrid powertrains, with a pure electric version joining the lineup in 2024. The familiar turbocharged 3.0-liter inline-six with 48-volt hybrid assistance returns as the base engine in the SE. It delivers 395 horsepower and 406 pound-feet of torque.
Optional on the SE and standard on the Autobiography and First Edition is a new 4.4-liter twin-turbo V-8 making 523 horsepower and 553 pound-feet of torque. With it, the new Rover hustles to 60 mph in a factory-estimated 4.4 seconds.
A plug-in-hybrid six-cylinder arrives a few months later for the 2023 model year and makes 434 horsepower and 516 pound-feet of torque. Its 38.2-kWh battery (usable capacity 31.8kWh) gives it a projected EV range of 62 miles. A 105kW electric motor integrated into the transmission is brawny enough to propel the Range Rover at speeds up to 87 mph.
2022 RANGE ROVER MODELS FOR SALE
The 2022 Range Rover SE, Autobiography, and First Edition are available for order now from Land Rover Hinsdale. Deliveries are expected in the spring of 2022. With the way current supply chain issues are affecting all industries, our dealership encourages our customers to reserve in-bound Land Rover and Range Rover models. Many of our customers prefer to pre-order or reserve their next model to ensure they have 100% transparency on where their vehicle is prior to taking delivery.
2022 RANGE ROVER PRICE
The new 2022 Range Rover starts at $105,350 for the SE and $153,350 for the Autobiography. The First-Edition Range Rover is priced at $159,550 for the standard-wheelbase variant and $164,850 for the long-wheelbase version.